For over 20 years, Generate Health has worked in the St. Louis region to improve pregnancy outcomes, family well-being, and community health, with a core focus on advancing racial equity in these areas. As a maternal child-health coalition, the organization brings together a diverse group of partners in the area, using education, advocacy, funding, and resources to accelerate positive change.
Rich in both qualitative and quantitative data, Generate Health also engages community members and organizational partners with insights from indicators such as infant mortality, maternal mortality, access to prenatal care, low birth weight, and on-the-ground lived experiences.
As the organization began its most recent strategic planning process, they wanted to know—how were they using data to contribute to the region and where could they improve. data.org's Data Maturity Assessment (DMA) became an essential tool in identifying their current use of data and prioritizing ways to increase data insights to better serve the community. 
This was really an opportunity for our team to talk more strategically about data, with the recognition that we have a lot of it and we're not always using it intentionally.

Leah Moser

Director of Planning and Partnerships

Generate Health
The Challenge
Infant mortality is a significant problem in the St. Louis region. In fact, the number of infant deaths in the region each year could fill 15 kindergarten classrooms, making it one of the worst infant mortality rates in the nation. What's more, Black babies are three times more likely to die than White babies before their first birthday due to the toxic stress experienced by Black parents caused by racism and discrimination and the challenges in accessing equitable and culturally congruent services.
---

Data source: Generate Health
---
Armed with and fueled by this staggering data, Generate Health mobilizes critical community partners—from hospitals to health systems to social service providers—to take action.
After two harrowing years of doing everything the organization could to help protect mothers and babies during the COVID-19 pandemic—working with partners to increase quality care through home visitations, access to perinatal behavioral health, safe sleep education, and more—the team came up for air, realizing that it was time to reflect, assess, and plan for the future.
From the outset of their strategic planning process, leaders within Generate Health understood that data was an essential driver of every facet of their work, but that they may not be utilizing it effectively.
"This was really an opportunity for our team to talk more strategically about data with the recognition that we have a lot of it and we're not always using it intentionally," said Leah Moser, director of planning and partnerships. "We wanted to know—are we asking the right types of questions? Is the data we're collecting helping program outcomes? Are we sharing it back to our communities and partners effectively?"
Staff across the organization deal with a variety of data types depending on their role—from health and program to finance and donor data—yet it's not consistently shared in a way that garners greater insights.
Further, they wanted to make sure that they were putting impacted community members at the center of data collection and analysis.
"We're at a moment in the organization where we not only think hard about how we leverage the information that we have, but how we take into account the communities we serve at all steps," said Moser. "We recognize that there are power dynamics between community members and those coming into the space asking questions. So we have to make sure that we consider the impact of the questions we're asking and that those questions are truly necessary."
Moser and her team recognized that Generate Health needed help to take their data to the next level.
Being able to integrate the recommendations from the DMA into our strategic plan was a huge turning point for Generate Health. It provided a really comprehensive view and pointed to where we needed to prioritize and invest.

Leah Moser

Director of Planning and Partnerships

Generate Health
The Solution
In the St. Louis region, organizations like Washington University and the St. Louis Regional Data Alliance are helping build data capacity and collaboration among their fellow social sector organizations. It was through Generate Health's ongoing connection with these partners that they discovered data.org's Data Maturity Assessment.
Launched in 2022, the Data Maturity Assessment (DMA) provides social impact organizations a snapshot of their data maturity journey plus the relevant tools and resources to move forward. The DMA provides a framework for assessment within three categories:

Purpose: What does the organization want to use data to do?
Practice: How does the organization plan to use data to achieve its mission?
People: Who works with data and makes data-driven decisions?
Over the last year, more than 1000 organizations have taken the DMA to identify ways to strengthen their data maturity—one of them being Generate Health, where eight individuals at different roles of the organization took the assessment.
There are five stages—or archetypes—of maturity within an organization's data journey, and each one presents specific opportunities to build a flourishing data practice.
"Generate Health landed squarely in the 'Data Informed' archetype," said Moser. "And this really reflects where we are. We have begun to harness the power of data for impact but we need to further develop and refine our efforts."
Moser points to two key areas for improvement that the DMA highlighted—better coordination and better transparency. Generate Health needed to create more holistic strategies for how they use the data they already had access to, and in turn, communicate more frequently and openly about that data with community members and partners.
"The DMA helped us realize that storytelling is a big part of the data process," said Moser. "When we use data outcomes to tell stories about our positive impact—especially when it's the result of collaboration—it not only strengthens trust in our organization but encourages further data sharing and coordination with our partners."
The DMA also signaled the need to create stronger processes and protocols around collecting, inputting, and ensuring quality data.
Generate Health took these and other DMA findings and aligned them across their strategic plan.
"Being able to integrate the recommendations from the DMA was a huge turning point for the organization. It provided a really comprehensive view across and pointed to where we needed to prioritize and invest," said Moser.
The Takeaway
What advice would they have for other organizations thinking about taking the DMA?
"Go for it."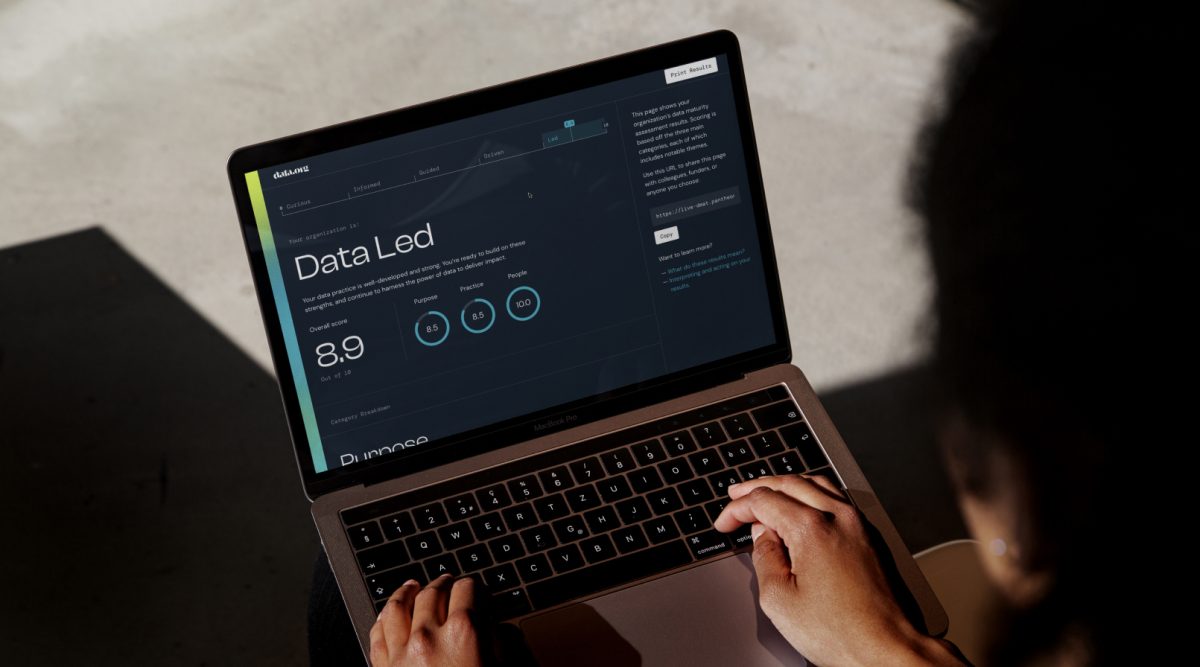 Moser continues, "But after you complete the assessment, it's critical that you make space to communicate the findings back to your team."
Generate Health convened two all-staff meetings to review and discuss the findings, giving a comprehensive presentation that showed all scores across categories and looking closely at areas where there was variance.
"It was truly eye-opening to be able to have these conversations across the entire organization," said Moser. "We had staff that hadn't thought about their roles intersecting with data, but when you drill down they're involved in the data pipeline every day. It became clear that we all have a responsibility to data."
Moser noted that also having multiple people across different roles at the organization take the DMA was crucial in aligning a common understanding of the successes and challenges around data, helping the team develop a shared language, and creating buy-in for a data-driven culture.
They then reconvened to brainstorm how to align and integrate data strategies with the strategic plan. They went through the plan in painstaking detail, identifying data needs and the resources needed to meet those needs, with an overarching goal of streamlining data processes across initiatives.
As Generate Health looks forward to the next several years, they are also thinking about what roles they need internally to sustain advanced data strategies. Ideally, Moser notes, they would have a centralized learning and evaluation role that has a broad lens across the organization.
"Funding an organizational data practitioner is tricky," said Moser. "We need more funders who will support general operations. But through this process, we've gotten better at knowing what data we need and how to communicate with funders to help them see the bigger picture. And we have a lot of hope for the future of data at Generate Health."