Artificial intelligence, machine learning, natural language processing, deep learning, geospatial analysis.
Across industries, around the world, in both the public and private sectors, emerging technologies are bringing innovation at record speeds. There is a growing understanding that data is critical for effective decision-making, and organizations of every kind, from healthcare startups to well-established NGOs, are collecting and analyzing data like never before.
The sophistication with which these entities are incorporating data into their decisions varies, but across the board, a persistent challenge has emerged: finding the talent with the skills and desire to maximize and make sustainable the meaningful use of data science.
But if you're looking for a purpose-driven data professional, the University of Chicago (UChicago) may be a good place to start your search.
Students don't necessarily go in with a data science degree thinking, 'I'm going to be a social impact data scientist.' For years, we've been asking, 'how do we build this sector and create these career pathways for students so they can see those opportunities for themselves'?

Mindi Mysliwiec

Senior Director of Outreach & Chief of Staff, UChicago Data Science Institute

The University of Chicago
The Challenge
While access to top data talent is a challenge across the board, it is particularly difficult within social impact. Nonprofits and other social service organizations often have less mature data operations, offer lower pay than their private sector counterparts, and work with smaller teams and more limited datasets. In low- and middle-income countries alone, there will be a need for an estimated 3.5 million data professionals focused on social impact over the next 10 years.
The demand is enormous, but the immediate career opportunities may not seem as attractive.
"Students don't necessarily go into data science degree thinking, 'I'm going to be a social impact data scientist.' For years, we've been asking, 'how do we build this sector and create these career pathways for students so they can see those opportunities for themselves'?" said Mindi Mysliwiec, senior director of outreach for the Data Science Institute at UChicago.
Mysliwiec's background is in law, and she had a similar experience as a student. She knew she wanted to make a difference, and could see clear pathways to a public interest law career.
Today, she sees young people with those same ideals and energy overlooking social impact because, still in its nascency working with technology and data science, the sector has been slow to make the case and create the right opportunities.
"One of the challenges of going into the social impact space as a new graduate with a technical background is you look at, 'who will be my mentor? What are my professional development opportunities'?" Mysliwiec says. "Our team is looking at ways we can professionalize this space. Building that community is really key to keeping this pathway as a career opportunity open for more people."
More people, and more diverse professionals.
The STEM disciplines, both in academia and in the workforce, have been plagued by a lack of diversity. That homogeneity stifles innovation and often results in unintended consequences when technology is developed without inputs from a range of perspectives and is deployed in communities that look different from the one in which the so-called solution originates.
That, says Nathalie Valenzuela, is what makes her experience at UChicago stand out.
This is a very difficult area because it blends together so many different domains of thought. This is an area that is constantly evolving, so you need to be comfortable being uncomfortable.

Launa Greer, Software Engineer, UChicago Data Science Institute
The Solution
A Master's student from Fresno State University, Valenzuela is part of UChicago's Data Science Institute (DSI) Summer Lab, which launched in 2018 and is an immersive, 10-week paid summer research program. She came to the program thanks to data.org's Capacity Accelerator Network (CAN), which funded the creation of a consortium of education partners, including a broad network of minority-serving institutions, to amplify social impact through data science.
"Data science is not just one stereotypical person. It's so diverse here," Valenzuela said, noting that in the past, she has faced discrimination as a woman in STEM. At UChicago, she found a supportive community. "There are so many people who are into it and are trying to pursue it, and knowing my work is going to impact society made me realize this is something I want to pursue further."
The Summer Lab program—which in 2022 had 49 participants—engages Master's students like Valenzuela alongside high school and undergraduate students, and pairs them with data science mentors in a variety of domains, including computer science, climate, and energy policy, biomedical research, and more.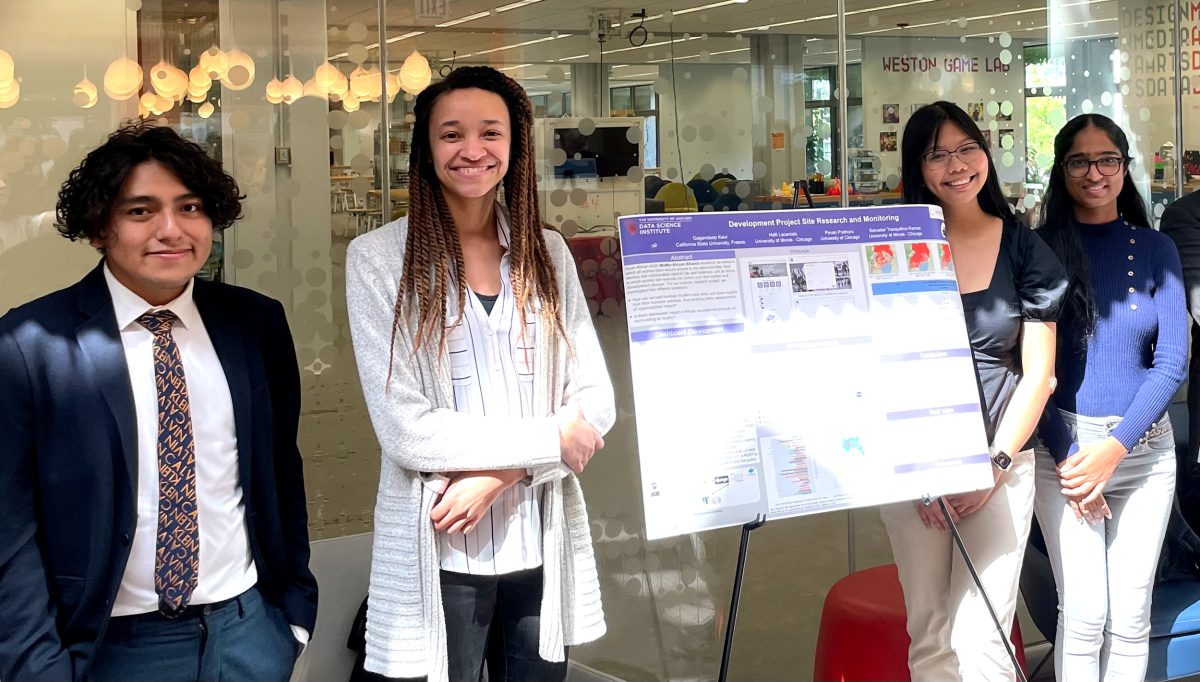 Launa Greer, a software engineer at DSI, is one of those mentors.
"Being in an environment that had open dialogue between faculty and staff members and working directly with students on different computing and research areas was very interesting and attractive to me. I enjoy the intersections," she said.
An interest in interdisciplinary work is no surprise for Greer, who actually studied religion, history, and philosophy as an undergraduate student before graduating with a master's from UChicago's Computational Analysis and Public Policy program, jointly under the DSI and Harris School of Public Policy. While she had a lot to learn coming into the world of data science, she wants to see more young professionals appreciate the value of bringing diverse perspectives into the field.
"No background is wasted," she said. "Really believing in yourself and giving yourself the patience to learn new material is important. Applied data science is challenging because it blends together so many different domains of thought. This is an area that is constantly evolving, so you need to be comfortable being uncomfortable."
Seeing the tremendous need for talent in social impact, UChicago specifically added a social impact track to the Summer Lab two years ago, where students work as a team with an organization that is identified by another DSI partner—the 11th Hour Project, a grantmaking foundation that serves more than 400 nonprofits around the world. Locally, UChicago engaged the University of Chicago's Office of Civic Engagement to build up a base of nonprofit partners close to home.
And just as the number of nonprofit partners is growing, so too is the number of students. Of the roughly 400 Summer Lab applications for 2022, 75 percent indicated an interest in social impact.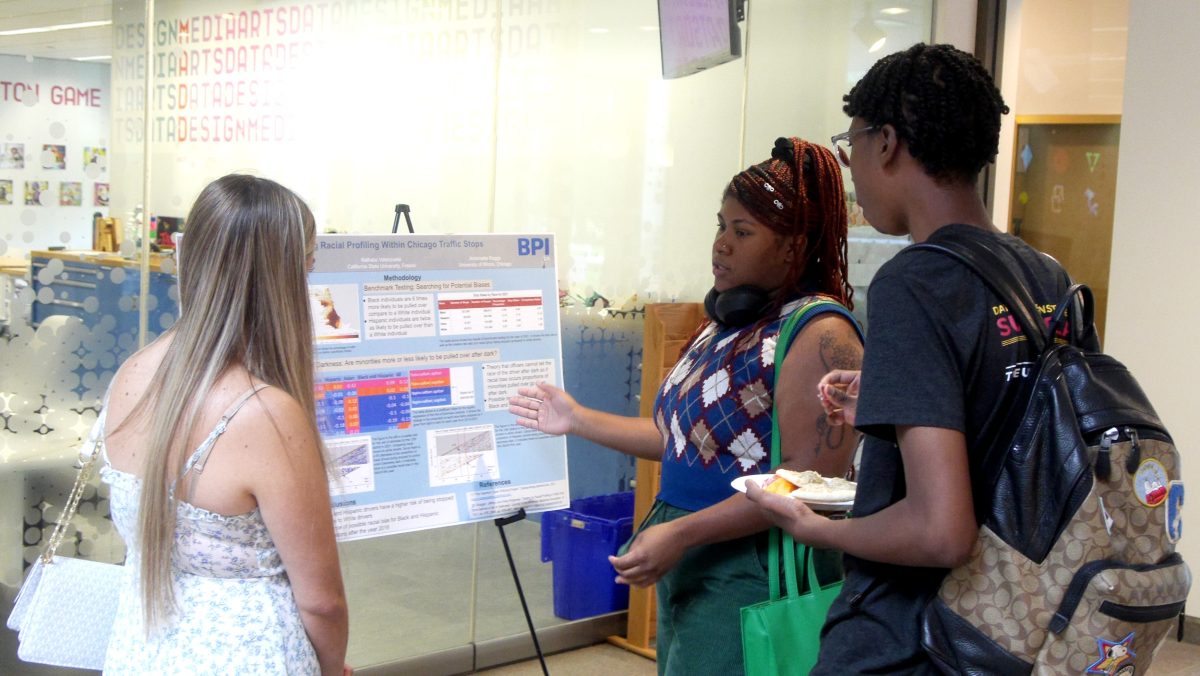 "The more social impact opportunities we put in front of students, the more students who will choose that path," Mysliwiec said.
The projects are hands-on and designed with the needs and capacity of nonprofits at the center, from climate to financial inclusion to social services. Building trust with the nonprofit partner is key, as is understanding the root of the challenge and making the solution sustainable after the Summer Lab team hands it over.
While sustainability and replicability are at the core of the Summer Lab program, it is also central to DSI's work more broadly. They are not only focused on building a talent pipeline through University of Chicago programming but also on creating open-source curricula and best practices that can be adapted and expanded upon to solve big problems in Chicago and beyond. Through the CAN consortium, a cross-institution team is building a modular, experiential data science curriculum focused on applications to real-world problems, like financial inclusion, that can serve as a model for other emerging programs.
The Takeaway
UChicago's portfolio of data science programming continues to grow alongside student and sector demand. The Summer Lab is a perfect example, and the university doesn't see the demand or growth slowing down anytime soon. The reviews from staff, mentors, and students alike continue to reinforce that the university has hit on something necessary and wanted.
"Knowing my work has an impact beyond me in a way is such a rewarding feeling," Valenzuela said.
Looking ahead, Mysliwiec and her team at UChicago hope to diversify and expand the data science talent pipeline by moving students through a continuum of programs. The DSI Summer Lab may be the point of introduction for a high school student, but the hope is that they will then pursue further education and training opportunities, whether it be at UChicago or one of the growing number of partner institutions investing in data science talent development and building on the lessons learned in the Windy City.
And if the program works as intended, those opportunities will include—and may someday center upon—social impact.
"Our goal is that the organizations have a great outcome, that the students have a positive experience, and ultimately that the students consider careers in data science for social impact," she said.