The opportunity for data to advance the social sector is enormous, but social impact organizations face many obstacles on their journey to using data in service of their mission. To get started, social impact leaders must be aware of the potential, develop the skills and capabilities to build a data competency, and marshal the resources to make it all happen.
Additionally, deploying data science in the social sector requires particular nuance — it isn't just a rinse and repeat of what works for the private sector. To apply data and data science responsibly, social impact organizations need to develop approaches that honor the context and complexity of the specific social sector challenges to be addressed. In addition, solutions must prioritize engagement and meaningful co-creation with the communities they are intended to serve in order to be effective — and to avoid a plethora of unintended consequences.
At data.org we have heard (and personally experienced) the challenge of needing to get smarter about data, and the frustration of wading through a trove of search engine results. It takes not only time and effort, but also field experience and subject matter expertise for social impact leaders to determine if a resource is from a trustworthy source, current enough to be relevant, and appropriate for their stage of data strategy. To solve this challenge, we have built two new elements into our data.org digital platform: a Resource Library and a Data Maturity Assessment Tool.
A Resource Library as a Launchpad
The Library is created by the community, for the community. We first introduced this concept with users at Good Tech Fest in May 2021, and engaged community stakeholders throughout the design, development, and content creation and sourcing. Our goal is to provide a neutral platform to build capacity in the field. We curate and categorize a manageable set of resources to provide social impact organizations with a jumpstart on their data journey. Resources are categorized into topics including analysis, governance, leadership, and strategy; users can start from a topic they'd like to learn more about, or browse the entire catalog.
Beyond the resources, the Library contains a series of consumable guides addressing particular topics from How to Build Your Data Stack to Getting Started with Data Visualization. In addition, we are including time-bounded opportunities: for funding, research, and for employment applying data science to roles in the social sector.
We are grateful to all those who contributed ideas, recommended resources, and tested early prototypes for this first release. In the coming months, we'll be listening to your feedback and watching the analytics to understand what's working and what can be improved. We look forward to continuing to evolve this experience to enable more specific matchmaking between social impact organizations and funders looking for ways to maximize field-building impact, and to increase connections among social impact organizations to one another.
This event occurred on February 16, 2022 at 12pm ET / 9am PT / 5pm GMT / 8pm EAT
The first step towards progress is understanding where you currently are. data.org is excited to launch a brand new Data Maturity Assessment that provides a snapshot view to help you and your organization understand where you are in your data maturity journey and provide resources to support your continued growth.…
A Tool to Chart a Data Journey
We are delighted to be launching the Data Maturity Assessment. This project, too, began with the community: an early alpha co-developed in the spring of 2021 with DataKind was tested with ten organizations, and in-depth interviews yielded insights about the data topics needing investigation. With this experience and extensive desk research in hand, we sought to create a solution that was short enough to be taken online, but substantive enough to identify areas of opportunity. Our goal was to provide organizations with a pulse check, helping them measure and understand where they stand today on their data journey.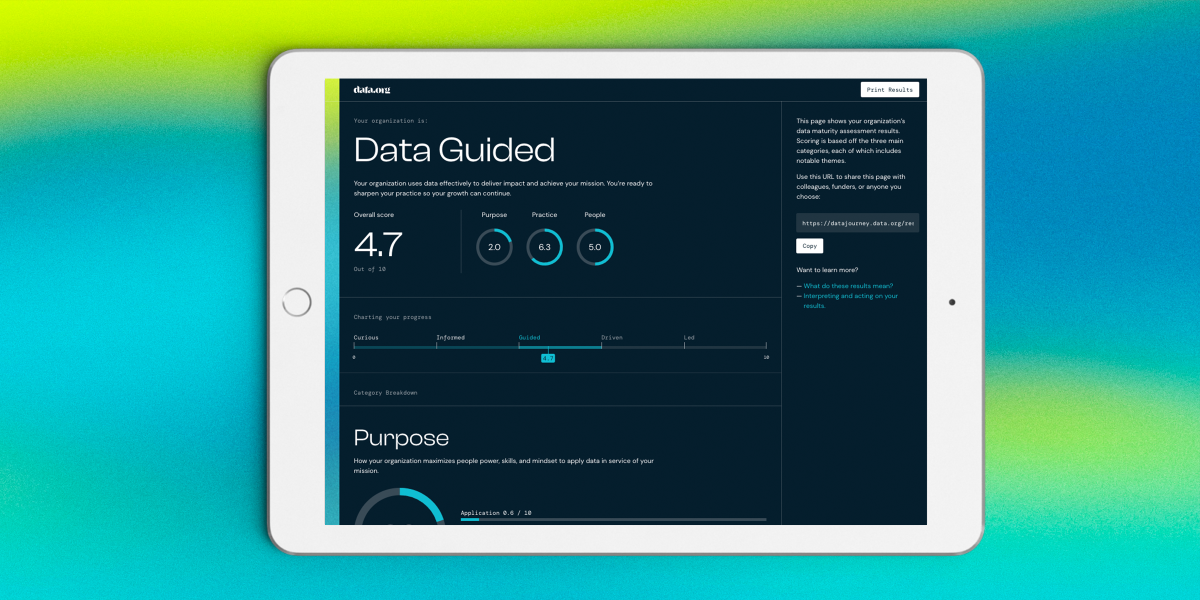 Mindful of organizations' need to act on an assessment, we ensured the results page offers not only a benchmark score, but also specific resources aligned with areas for growth. Integration of the Tool with our Library of guides and resources via a shared taxonomy on the backend ensures that organizations receive results with specific, vetted resources for delving more deeply into content. We also heard from social impact organizations that a significant obstacle in launching and sustaining a data competency is developing and communication a shared understanding of areas for opportunity and growth. With this challenge in mind, the results page is mindfully designed to be sharable with organizational leadership, boards, or funders to provide clarity, and to set the stage for an ongoing data conversation.
Stepping Stone to Building the Field
We know that a Resource Library and Tools are useful starting points and not the whole picture. Social impact organizations need funding, training, and connection with one another to advance their data practices. As a platform for partnerships to build the field of data science for social impact, we are committed to enhancing the digital platform to fuel these connections – both online and offline – to convene the community, and learn together.

Acknowledgments: We'd like to thank the many community members whose feedback informed this work – too many to list here — and Rachel Wells, Senior Manager, Center for Excellence at DataKind and Jake Porway, Fellow at data.org for hands-on guidance and insights. We are also grateful for the smart product thinking from our colleagues at Upstatement.
We also acknowledge the prior and current community members tackling this data maturity challenge, including Accion, CARE, Center for Data Science and Public Policy at the University of Chicago, DataKind UK, Data Orchard, and IBM.