The Capacity Network Accelerates
Today, in concert with the launch of  The University of Chicago (UChicago) Data Science Institute (DSI), we are delighted to announce seven new higher education partners committing to drive social impact through data science. This group constitutes the first hub in data.org's Capacity Accelerator Network (CAN), and focuses on financial inclusion to address systemic issues of inequity. The collective goal of this consortium is to generate new pathways out of poverty for college students from low-resourced communities and increase the data science pipeline for social impact organizations collaborating with these students. We are honored to welcome our new partners into the data.org network. They are: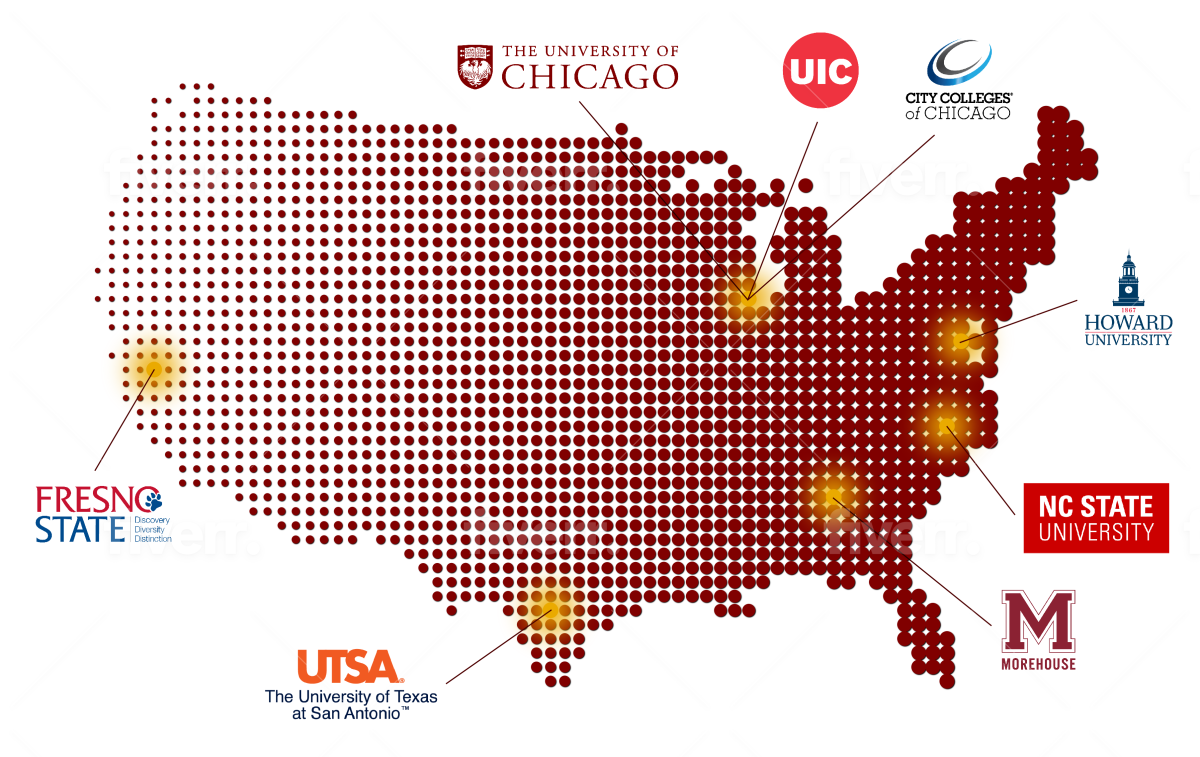 These partners bring broad, interdisciplinary expertise—spanning from social policy to data science—to the challenge of financial inclusion. The consortium includes historically Black colleges and universities (HBCUs), minority-serving institutions (MSIs), Hispanic-serving institutions (HSIs), and community colleges, among others. As an organization committed to IDEA (Inclusion, Diversity, Equity, and Access), data.org was pleased to partner with UChicago to identify these seven partners. These leading institutions represent different geographies and populations across the US, and share both a vision and a strong track record in developing highly qualified students, with priority focus on women and minorities for careers in data science or STEAM fields. 
Collectively, this financial inclusion hub will create an open curriculum, tools, and a model for experiential data science education that scales across diverse higher education institutions across the globe. While UChicago will play a key leadership and organizational role in this initiative, all consortium members will have an equal and powerful voice and make essential individual contributions, such as drafting data science apprenticeship models, developing co-curricular experiences for students, piloting experiential learning courses, and collaborating with local organizations to apply data science skills to local issues. This approach builds on the findings of our RECoDE report, which emphasized the critical need for data-driven solutions to be co-created with the communities they serve. All partners will engage regularly to share their work, ideas, successes, and failures as they drive data science for social impact at their own institutions. As each partner works within different communities and contexts, the learnings from their collective experiences will be shared and integrated into the open curriculum.
A Platform for Partnerships, In Action
As a neutral platform for partnerships, data.org is uniquely positioned to provide support across several areas critical for the initiative's success. Earlier this spring, we announced funding from the Mastercard Impact Fund for data.org's Capacity Accelerator Network (CAN), including an award to UChicago to steward this consortium of higher education partners. Through the data.org network, we connect academic institutions interested in data science for social impact with funders, sector experts, and leading social impact practitioners to ensure programmatic sustainability and scale.
Crossing Sectors to Scale
We are proud to announce this first milestone in building a consortium of partners committed to developing, refining, and deploying open data science curricula for social impact. Through piloting the curricula and playbooks, we are excited to see the reach of each partner's contribution, from educating individual students to working with local social impact organizations to ultimately effecting meaningful and equitable change at leadership and policy levels. The challenges we face as a society are systemic, interconnected, and complex, and only by bringing together different disciplines, sectors, and perspectives can we build solutions that scale for everyone, everywhere.
Inaugural Data Science Institute Summit
The inaugural Data Science Institute Summit featured the UChicago vision for data science and sessions on DSI research programs, such as AI + Science, Internet Access and Equity, and Data and Democracy, as well as education and outreach partnerships with the City Colleges of Chicago, minority-serving institutions, data.org, and the 11th Hour Project.