Homelessness is solvable.
That's the belief of Community Solutions, and they don't think it's a radical one, either.
They are a national nonprofit whose work is intensely local, working with, supporting, and strengthening community-based partners on the ground across more than 90 cities that are committed to making homelessness rare and brief. Through their Built for Zero movement, 14 cities have reached a milestone known as functional zero, meaning that homelessness has been measurably ended for one or more populations.
How did they get there?
Data, for starters. Community Solutions is helping communities in Built for Zero harness quality, person-specific data to fuel their efforts to end homelessness. With a deeper understanding of homelessness both at the individual and population level, communities have worked to address inflow, build homeless response systems designed to drive population-level reductions, and target resources.
The Challenge
Homelessness continues to be a national crisis, making the work and progress of communities in Built for Zero all the more important.
Answering: 'what would it look like to reduce the number of people who ever experience homelessness in the first place?' feels really exciting and I think data is going to be a big part of that story.

Aras Jizan

Member

The Agency Fund
Every year, on a single night in January, a federally mandated annual count of homelessness is conducted. In 2020, this count — known as the Point-in-Time count — found that more than 580,000 Americans were experiencing homelessness. For too long, this data has been one of the most critical sources at hand for communities, even though it is anonymized, aggregate, and not actionable to end homelessness for a constantly changing population.
"A lot of the domestic programs and areas such as homelessness don't leverage the same kind of methodology around data, analytics, and quality improvement that I had taken for granted in other spaces," said Aras Jizan, the Portfolio Lead for Built For Zero. "What really drew me to Community Solutions and Built for Zero's work is that there's an empirical evidence base for how to help one person struggling with homelessness. What was missing was scaling that up at the population level."
Without real-time data and analytics to understand the dynamics of homelessness in their region, communities could get stuck solving yesterday's problem without understanding if they were moving towards their goal of reducing and ending homelessness.
At the time, Community Solutions had limited capacity to shift the system. Jizan says a three-person "bootstraps" team was managing incoming data and outgoing analysis for dozens of communities. The organization had outpaced their tech systems, and they were spinning their wheels on data that should be automated.
To get more communities to functional zero, Jizan and his team needed to move away from bootstraps and towards best-in-class.
The Solution
That best-in-class tech was available through the Tableau Foundation, so Community Solutions submitted a grant application that has led to a sustained and significant partnership.
What Community Solutions wanted was better tech. What they got was a completely new way of working.
Through better data collection and analysis, the partners want to inspire more rapid cycle iteration and instill a continuous improvement mindset in organizational leaders. They believe building the data collection and analysis muscle within organizations will help good work go further.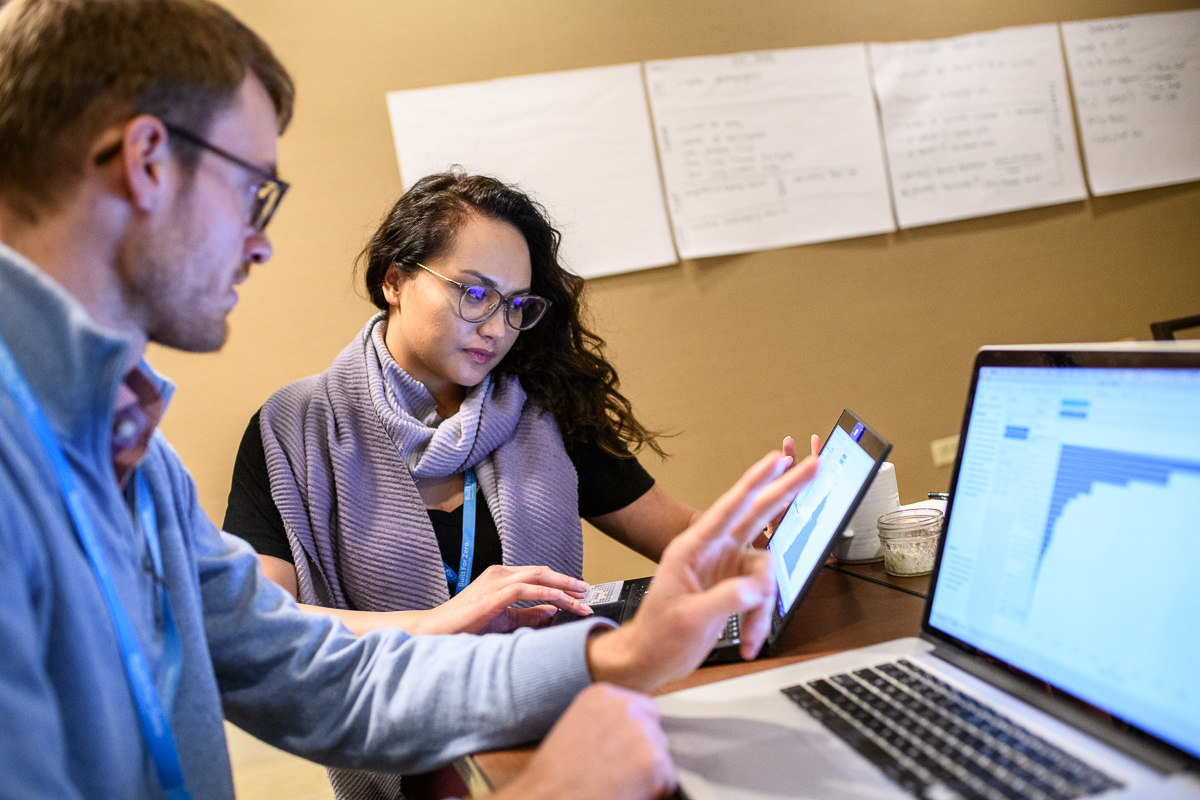 Community Solutions began networking with other Tableau Foundation grantees to learn what had been done in other fields. This process of peer learning opened up new ideas for Community Solutions to take and adapt to the work of ending homelessness. Through the Tableau Zen Master network, Community Solutions was able to quickly prototype and deploy data tools to see what worked for Built for Zero communities to put data into action.
"It transformed our imagination around how we were using data tools," Jizan said.
One of the things that is super important is using data to counter the pessimism and using something that is irrefutable and undisputed to be able to say there are points of hope, there are places where this is being done right.

Jason Schumacher

Director, Analytics

Salesforce
Community Solutions embraced each opportunity this new technology offered. They went from a decentralized data collection system in Google sheets to a centralized system that began to automate analysis. People were an important part of the solution: They grew their team, and through professional development and continued peer-to-peer learning, they began adding new elements and visualizations to their dashboards. Suddenly, statistically significant changes in communities were being highlighted automatically, giving community partners real-time information on trends and early successes. The process of receiving data and providing something actionable in return was cut from 12 to 18 months down to one month or, in some cases, nearly instantaneous.
And as their work together continued, Community Solutions and Tableau were able to extend their learnings to their local partners. Nonprofits in their network had access to Tableau and data training courses, and the Community Solutions team, now freed up from some of the direct tech troubleshooting, could focus on building capacity locally.
Local leaders are increasingly taking ownership of their data, slicing and presenting information in ways that are relevant and important to them, and with an eye towards influencing priority audiences like funders and policymakers. That is especially powerful when it comes to combating the sense of pessimism or hopelessness that can come with problems as challenging and intractable as homelessness.
"The country as a whole is declaring homelessness as an emergency and yet we don't see numeric successes," said Jason Schumacher, Head of U.S. Grantmaking for the Tableau Foundation. "That's the backdrop we're playing with here and one of the things that is super important is using data to counter the pessimism and using something that is irrefutable and undisputed to be able to say there are points of hope, there are places where this is being done right."
The Takeaway
In terms of metrics, helping more communities achieve functional zero is the ultimate goal. But Jizan and Schumacher are encouraged by the milestones along the way, as well. Schumacher remembers a time, not long ago, when people didn't know what functional zero meant. He doesn't need to have those conversations anymore. The movement is building, and so is the sense of hope and possibility.
More communities are recognizing the power of data in storytelling, too, and Jizan is excited by the shift in mindset where data isn't a tool for judgement or compliance, but for driving improvement. He hopes that continues to build as the system gets better at tracking meaningful measures, and focusing more on equity.
As for the future, Community Solutions is eager to build more partnerships, integrating data with health systems, foster care, corrections, and other feeders into the homelessness pipeline to end homelessness before it begins.
"We want to move upstream into the prevention and diversion space," he said. "Answering, 'what would it look like to reduce the number of people who ever experience homelessness in the first place?' feels really exciting — and I think data is going to be a big part of that story."