USAFacts launched in 2017 to make government data more accessible and understandable. Information about spending, revenue, population and demographics, policy outcomes, and other key data that connect inputs to outcomes. No anecdotes or adjectives. No partisanship or politics. No interpretation or opinion. Just the facts.
A straightforward mission that yielded a complicated path to progress.
"We started this website to make it easy for people to do what took us several years to go out and do," explains Richard Coffin, the Chief Product Officer at USAFacts. "It's really hard to access government data and it shouldn't be that hard. It's taxpayers' data – they paid for it; they own it."
With more than 90,000 local, state, and federal government jurisdictions across the country, compiling and synthesizing the data has been a consistent challenge, regardless of the topic or dataset. But when the COVID-19 pandemic hit the United States in 2020, USAFacts was faced with perhaps its most difficult – and urgent – task to date: helping Americans understand COVID-19 in their community and how that connected to the national story unfolding.
The Challenge
In the early days of the pandemic, it was an all-hands-on-deck effort to begin compiling data on COVID-19 positive rates and deaths. Just as the country's health care infrastructure was unprepared for a global pandemic, so too were government agencies when it came to data collection and transparency.
With COVID-19, there wasn't a lot of data out there; there wasn't a lot of trust in the information. People were really confused. In this case, it was a life-or-death situation.

Richard Coffin

Chief of Research and Advocacy

USAFacts
Every state was collecting and reporting different data, and presenting it in dashboards that could look dramatically different across state lines, even from neighboring states. Every night, team members would spend four to five hours scouring state and county websites, even going to Facebook pages for County Sheriffs in some cases to find the latest information.
"It just became a mammoth effort every night," Coffin said.
The quick response and execution of USAFacts meant that they were among the first to collect and report the data. So much so, in fact, that for several months, USAFacts was the official provider of COVID-19 data on the Centers for Disease Control and Prevention website. One team member was essentially on call for the CDC, as the government agency was using USAFacts data to help fuel their operations and decision-making.
Banks used the data to drive decisions on branch closures. Military leaders tapped in to inform recruiting practices. Philanthropies drilled down to understand where resources were most needed.
And Americans from every corner of the country flocked to the site to try to understand and navigate the pandemic. The importance of providing this public health information, particularly at a time when so many are distrustful or skeptical of what they read or hear in the news, was not lost on the USAFacts team.
"With COVID, there wasn't a lot of data out there; there wasn't a lot of trust in the information. People were really confused. In this case, it was a life-or-death situation," Coffin said.
The Solution
This confluence of factors – the lack of data, a distrust of government and media, and the high demand for information – have made USAFacts' COVID-19 dashboards some of its most consumed datasets. Altogether, the COVID-19 content has received more than 34 million page views from March 2020 through September 2021. Visits to the website have followed the curve, surging at the same time that cases spike nationally.
So far, in 2021, more than 15.5 million users have accessed the COVID-19 information.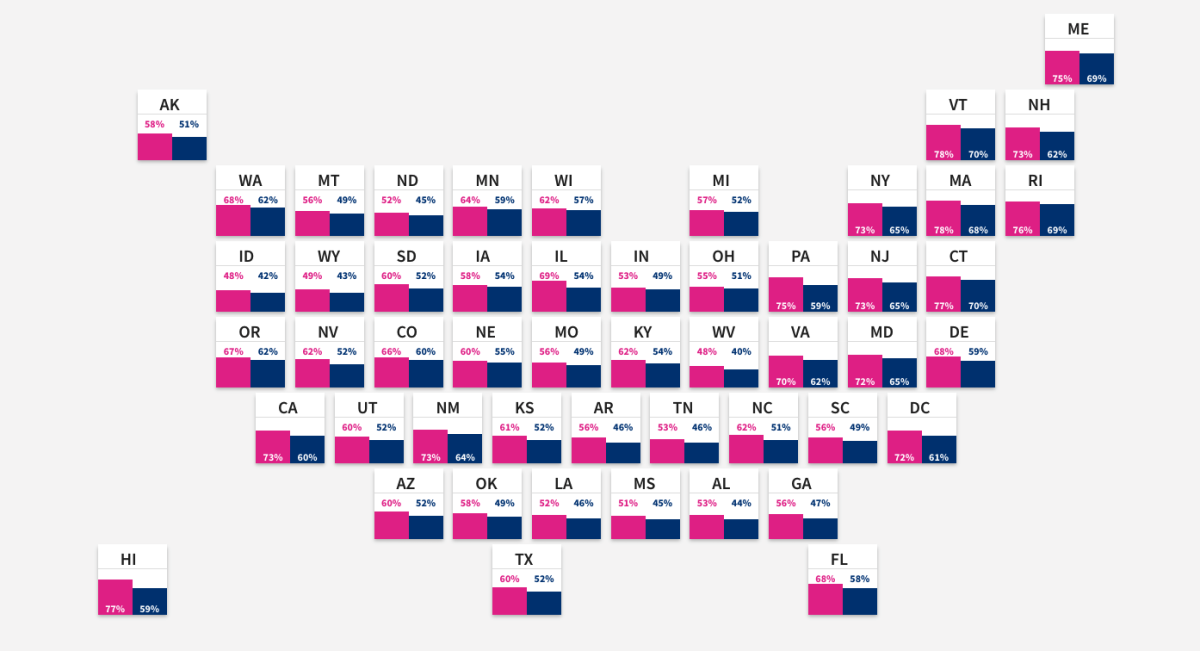 USAFacts aims to meet these millions of users where they are by bringing them along on a journey to understand the data. The site presents the data in multiple formats, slicing the statistics in different ways depending on the understanding and the needs of the end-user. Exploring the COVID-19 pages will reveal cases and deaths presented in maps, line charts, and tables. There are data stories on economic recovery and vaccination progress data dissected to answer every imaginable question about who is – or who isn't – getting vaccinated.
Unlike most "storytelling journeys," however, USAFacts aims to do so without editorializing.
"If you look at traditional media, they typically marry data with an anecdote. We don't do that. What we really do is try to tell a story through the lens of data – not a story arc but a story of understanding," explains Chief Marketing Officer Lisa Conquergood. "We let you be the anecdote. We allow you to be the fact-checker."
Conquergood adds that they are "dogmatic in our consistency." USAFacts only uses government sources. They cite all sources, including links. And adjectives are the enemy.
"Consistency breeds trust; transparency breeds trust," she says.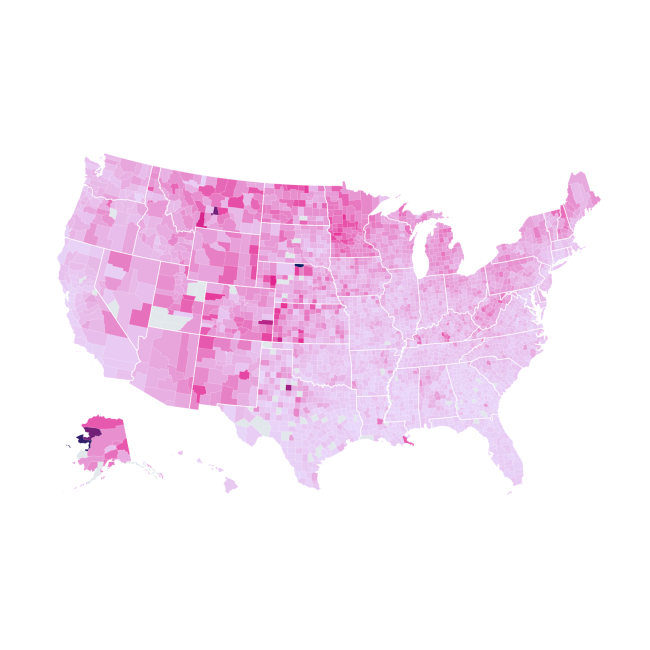 US COVID-19 cases and deaths by state
This map tracks the history of COVID-19 cases in the United States. The data is updated regularly by USAFacts.
The Takeaway
The pandemic has reinforced for USAFacts that there is a strong and growing, demand for data to inform decision-making.
"Our theory of change, in general, is that if we can provide people data and we can allow people the same ability as anyone who is a decision-maker to follow the numbers and decide what is good or bad, then people will feel that decisions are made at least for the right reasons," Coffin said.
We let you be the anecdote. We allow you to be the fact-checker.

Lisa Conquergood

Chief Marketing Officer

USAFacts
That will continue to be the driving force behind USAFacts, whether they're sharing data on COVID-19 or climate. In the process, they're hopeful that they can begin to build demand for and interest in better data systems in government. Even now, 18 months into the pandemic, a lack of uniformity across state systems persists. While 42 states upload their latest data automatically, USAFacts still reaches out directly to the remaining eight states. Coffin estimates that three team members are focused on only COVID-19 in any given week, and he thinks it will take federal government action to build more integrated, responsive data systems across jurisdictions.
In the meantime, they'll keep plugging away, pulling together data, and giving it to the taxpayers it belongs to in hopes of building greater trust and greater understanding about the systems that drive our country.