It's hard to imagine two more different settings to visit within two weeks: the city of Lagos, Nigeria, with its fast-paced, creative energy, and Davos, Switzerland, a picturesque alpine town transformed for a dynamic gathering of world leaders for the annual World Economic Forum.
Despite the distance of 6,700 kilometers, we discovered one consistent refrain: to achieve societal resilience, we must more effectively deploy data and technology to tackle our greatest shared problems.
Learning in Lagos
The first leg of our journey was to Lagos, Nigeria, Danil Mikhailov, Uyi Stewart and I met with leaders across government and academia, and innovation hub teams to learn about capacity development programs and to identify areas for potential collaboration.
Organized by Data Scientists Network (DSN), our goal was to get a better understanding of local opportunities and constraints, share our observations from data.org's ongoing global programmatic work, and together, lay the groundwork for future data for social impact engagement.
Across all these conversations, several common themes emerged:
Partnerships are critical. But human systems must support them
As a platform for partnerships building the field of data for social impact, we know that effective collaboration across government, private sector, and the social sector is critical to using data to help solve social challenges. But too often, partnerships rely on a few key stakeholders and are vulnerable to staff and personnel changes. As a result, we need to build underlying human systems to strengthen organizational connections. These human systems are even more important in low and middle-income country (LMIC) contexts, where there are immediate challenges to be addressed, and there is greater pressure for efficient and effective use of funding. Building partnerships to drive data for social impact is imperative to tackle local problems with urgency, and we heard the need for enduring systems that extend beyond personal relationships.
To empower the last mile, don't neglect the "middle layer."
In recent years there has been a valuable focus on "last mile delivery," a concept that emphasizes the last stage in a process to make sure the end result is a viable solution. In the context of data, this emphasis helps ensure that interventions clearly benefit the intended populations. Our conversations in Lagos confirmed this theory and urged its expansion. We heard time and again that it's important to broaden the definition of the last mile to include networks of "middle actors" who contribute to those positive end results.
In a conversation with Solar Sister, we heard how the last mile goes beyond the woman entrepreneur selling clean energy products; it includes the people providing foundational logistics infrastructure including: shipping, transportation, and warehousing. In more urban areas, these networks are established parts of last-mile delivery. In more rural areas, they are a missing piece, which hampers success of the individual entrepreneurs.
We learned that in order to achieve last mile success it's vital to map the ecosystem to discover and document any critical middle layer — and make adjustments to support that element of that "last mile" comprehensively.
Innovation hubs play an important role in training purpose-driven data practitioners.
Nigeria boasts strong universities such as Covenant University and the University of Lagos, and has developed many globally-recognized academic leaders in data and technology. But despite these strengths, the university system alone is not enough. Not every learner will have the preparation or the means to attend one of these institutions, nor can universities meet all the demand.
As a result, innovation hubs are a key part of the solution to data talent at scale. In particular, these hubs can:
apply local knowledge to drive sustainable solutions
translate and adapt findings, research, and investments (public goods) to build knowledge or products across various domains.
Given the number and geographic distributions of these hubs, there is an opportunity for investing in a coordinating role that aligns partners like universities, private sector, and social impact organizations to drive greater impact.
Don't underestimate the power of creativity.
In countries with no or little infrastructure, people are forced to get creative. And in our travels, we saw so many nimble approaches that ensure local success—like making course delivery timing to accommodate caregivers' schedules or using a low-cost USB to deliver learning materials in areas without internet access. These kinds of solutions would be difficult to anticipate if developed without local knowledge and input. It is essential that we continue to invest in training local data practitioners through both traditional models and innovation hubs if we want to achieve meaningful results.
Desk research and quantitative analysis are important—and so is time in country.
There's no substitute for seeing data for social impact in action. One afternoon, we met with the BASE partner Cold Hubs; BASE was one of eight Inclusive Growth and Recovery Challenge awardees focused on the problem of cold chain storage. Their work, which originally began in India, has been both scalable to larger markets and replicable on the African continent. We had the privilege of learning how the cold storage facility worked from solar panels to interior cameras, and of seeing how the app funded by the Challenge made use of data. Our experience underscored how important it is that data solutions must be local, and must be informed by and supported by the local community in order to be meaningful and sustainable.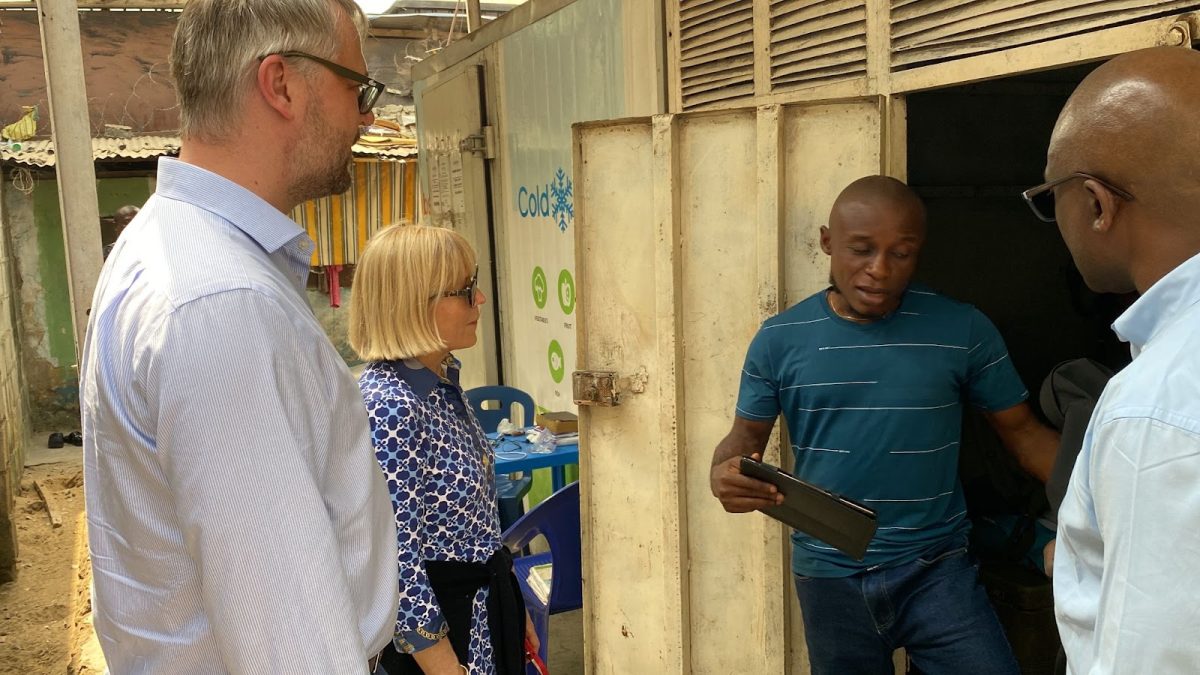 Engaging at Davos
Danil and I continued the journey to Davos, Switzerland — a drop of 80 degrees Fahrenheit — for the World Economic Forum (WEF) — where we launched our latest report: Accelerate Aspirations: Moving Together to Achieve Systems Change. The backdrop of WEF was an opportunity to discuss the pressing need to fast-track the growth of the field of data for social impact and how best to implement the three recommendations of the report:
Improve data strategies through common governance and tools, data sharing, aligned incentives, and most importantly, cross-sector coordination.
Build a more diverse and interdisciplinary workforce of purpose-driven data practitioners who can locally drive change.
Create stronger funding models with longer time horizons, more flexible structures, and better coordination to build sustainable and interoperable solutions.
Mike Froman, Mastercard Vice Chairman and President of Strategic Growth kicked off our robust conversation which included remarks by Executive Chair and Co-Founder of GiveDirectly Michael Faye and a panel moderated by Danil, including:
The panel tackled the central question at the heart of the Accelerate report: As we move from aspiration to action to achieve this vision, are we willing to take risks, align incentives, and partner differently?
Tariq Khokhar noted that it was essential to begin to persuade funders to think in terms of systems change in the sector. Not one-off projects.
"In 1970 cyclone Bhola in Bangladesh killed half a million people. In 2020, cyclone Amphan killed 26 people—a staggering difference," said Khokhar. "What changed? Three big ingredients: early warning systems, long-term sustained policy change, and resource mobilization. Using this example, every funder should take a step back and reflect on what caused big changes in the past, see the ways that they actually played a part in the solutions, and look at their problems through that lens."
One final takeaway shared across both trips…
It's time to get serious about data for social impact, with more people with different backgrounds, perspectives and experiences at the table.
Only through partnership and capacity building can we bridge the divide between private and social sectors to get data to work on the world's most complex challenges and move away from single-point interventions to system-wide solutions. And the need is so immense that we must all come together — private sector, philanthropy, social sector, government, and academia — to put people and systems in place.
data.org's 2022 Workforce Wanted report identified an opportunity for 3.5 million jobs in data for social impact in developing countries over the next ten years. To meet this opportunity head-on, we need to train diverse, interdisciplinary data practitioners from the communities we seek to support. We must also inspire leaders, organizations, funders, and intermediaries to coordinate efforts, and proactively invest in the time, tools, and efforts required to build a workforce operating with local context and embedding subject matter expertise into data-led approaches. From Lagos to Davos, we heard recognition of the need for coordination, and commitment to build capacity for globally-informed, locally-grounded, data-driven solutions.
Chief Marketing and Product Officer
data.org
Perry Hewitt is the Chief Marketing and Product Officer of data.org where she oversees the marketing and communications functions, as well as digital product development.
Read more